Maternity Reflexology
Reflexology is a wonderful treatment to have during pregnancy as it helps support both you and your growing baby. Completely safe and gentle, you can start from the day you find out to the day baby arrives. I am currently teaching you and your partner hand reflexology over Zoom so you and your baby can still benefit from reflexology, and may be able to do a home visit in the IP17 area.
Maternity Reflexology
There have been small research studies to see if reflexology can help with a variety of things during pregnancy as it is so safe.  Reflexology can help with:
Improving sleep, mood and relaxation
Releasing tension
Increasing overall wellbeing
Reflexology cannot start labour, but it can help relax you and make you feel good which can encourage labour to start!
55 minute session £75
"I had wonderful and relaxing reflexology experiences with Katie during my pregnancy."
Post-natal Reflexology
Perfect for post-natal recovery during the 4th trimester as it is so gentle and non-invasive. You can also have the treatment whilst holding your baby or having your baby sleep beside you.
55 minute session £75*
* Postcode depending 
Katie came to see me about 10 days after I had given birth to my first baby. I had been having terrible headaches and migraines ever since the labour. Katie came and talked through the birth with me and then did a reflexology session which really helped alleviate some of the tension I was feeling and really helped with my headaches. Katie has so much knowledge and experience, it is a pleasure having reflexology with her!  
THE NATURAL STARTER BUMP TO 4 MONTHS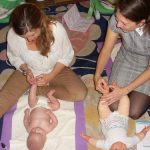 NATUROPATH APPROACH TO BABY MASSAGE & REFLEXOLOGY